Since it's apparent that many of you have either forgotten the signature rules / don't know the signature rules / don't care about the signature rules... This post is to serve as a reminder of the rules involving everyones signatures upon this forum. Similarly, if you have any questions about them, please feel free to ask.
The reason that we have placed limits upon signatures is to ensure that DenDen does not get too clogged up with various graphics and texts. If everyone were allowed to have any signature they wanted, there'd likely be some members who'd have signatures that were over a screen in length which would result in everyone having to scroll and scroll and scroll and... You get the picture. Similarly, there's only so many pictures of washed up singers and ugly members that everyone can stomach.
Right then.
Signature Limits
Here are the limits that everyones signatures must adhere to:
Maximum Total Width:
500 pixels
Maximum Total Height:
300 pixels
Maximum Total Filesize:
100kb
Here is an example of a good signature: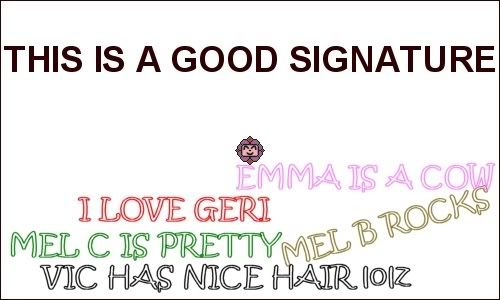 On a PC
If you are unsure of how big your 'signature' image is, upload it, right click upon it, and choose the option 'Properties' from the menu. A screen will pop up, like this:
From here, we can tell how big our signature image is. The size section tells us how large the file is in kb, the one in question here is 61410 - the maximum is 102400 (100kb). The dimensions section first tells us its width, which is 500, then secondly the height, which is 300. This signature is therefore acceptable.
On a Mac
If you are unsure of how big your 'signature' image is, right click upon it (or control click if you have a one-button mouse), and choose the option 'Get Info' from the menu. A screen will pop up, like this:
PLEASE NOTE
that this signature size INCLUDES all text within your signature. If you have text above, below, or to the side of an image, this text must be within the 500x300 limit. Similarly, if your signature is solely text, ensure that the text fits within the guidlines. All images and text MUST be within the 500x300 limit, so many of you forget this.
Other important information is that signatures may not contain commercial banners, links or other graphics/commercial text.Links to your personal or charity websites are of course still fine in your signature, however links to sites with a commercial purpose can not be accepted.
Also, signatures must be work-safe, and 'PG-13', as Angie doesn't want to be scrolling happily through DenDen while skiving off of work to see some naked women engaging in a sexual activity... She might like it in the privacy of her own room (who knows), but she certainly doesn't like it in the office and similarly her office don't want to see it. So please respect other users when it comes to what is contained within your signatures.
FAILURE TO COMPLY
Failure to comply with these rules is unacceptable. If you break the size limit rules, your signature will be replaced by a moderator with this rather fetching image:
While it is gorgeous it is NOT something to be proud of, it means your signature is TOO FUCKING BIG and you need to ensure you do not make the same mistake again. Break the signature rules THREE TIMES and your signature abilities will be removed - ie you will NOT be allowed to have a signature at all.
If you're unsure if your signature is too big, then ask in the Support and Suggestions forum before adding it to your profile. All moderators and admins will be happy to help - we do not enjoy removing signatures, it is boring and tedious, but sadly it is something that we must do to ensure that DenDen continues running smoothly.
Any questions or queries, please feel free to ask!
Mwah x